Yesterday hubs went round and round the KL city centre trying in vain to bring us to a restaurant for a decent lunch before dropping me off for a talk on Izumio and Super Lutein at Menara Multi Purpsose, where the Naturally Plus office is.
Everywhere that we went to, the restaurant was either closed or fully booked, dang it!
Finally he drove into Changkat Bukit Bintang and got a place to park his car. We walked into Magnificent Fish and Chips (it's been years since our last visit) and shiats, the place was full to the brim too. Then we walked a few steps into Healy Mac's Irish Bar and Restaurant and got a table. This Irish bar and restaurant is not exactly kids friendly as it's primarily a pub and even the bar stools were a tad high for the littlest one to climb up. But what choice do we have? I was already running late and only had 1/2 hour to gobble down my food! The majority of patrons were Caucasians. We were the only Chinese in the restaurant!
As I was already late for the talk, we had the Hawaiian pizza taken away for dinner.
Pork chop was really meaty and chunky - as in really white and lean meat, thus was dry. Maybe Caucasians like it this way? Gwai los like eating lean breast meat, no? Not for us!
Hubs' roast beef was not too bad.
The bill - which I find on the steep side.
After lunch, hubs sped off to Menara Multi Purpose to drop me off for the talk. I was 15 minutes late but did not miss out too much. Luckily I did not miss
my friend's talk
. She was the second speaker. It was a very interesting product sharing session and I learned a lot on how Izumio hydrogen water and Super Lutein can heal and repair the body. I also met some of my blogger friends there, who are also consumers of the products.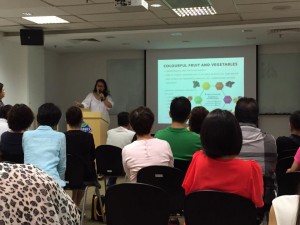 One of the speakers, a businessman and user himself spoke of how the products have healed the terminally ill. There was a doctor who is a user herself. She was introduced to the products when she was wheelchair bound and was healed from the ailment after months of consuming the products. Currently, she has over 50 doctor friends who are also users of Izumio and Super Lutein. It's uplifting to hear of amazing stories of how some of the terminally ill patients got healed which left their doctors baffled. My friend will soon be meeting the oncologist of one of her customers, at the doctor's request. The doctor was amazed with how the products can reduce the cancer markers of this patient, though no chemotherapy was administered.