My friend and her hubby paid me a visit last week. They gave me a big tin of Jacob's original cream crackers, a gigantic bottle of Ribena, a big packet of red dates and American ginseng. They are old school like that - cream crackers and Ribena must go hand in hand when it comes to gifting to sick / convalescing friends. So very sweet and thoughtful of them to come all the way from Shah Alam to visit me with the goodies 💗
I can't remember when the last time was that I bought original cream crackers. I used to eat them for breakfast so very often when I was in college. I would dunk the cream crackers into Milo / coffee. It was such a fast, convenient and economical breakfast that could fill me up until lunch. My dad still eats cream crackers dunked into his coffee till today.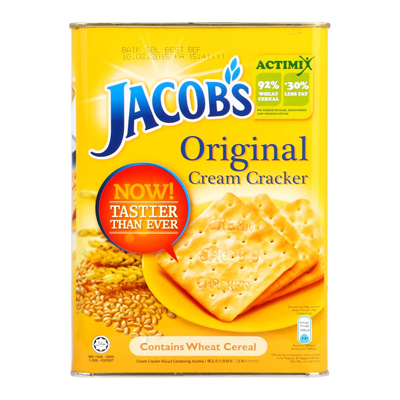 The other day, Alycia found a novel way of enjoying cream crackers. She placed cheddar cheese on the crackers and grilled them in the toaster oven for a few minutes. Then, she spooned some
'tau kok lup'
(a dish consisting of sauteed long beans, carrots, meat, prawns, peanuts and preserved radish - all diced) on top of the crackers with cheese, turning it into a pizza cracker! I thought it was a weird combo but it turned out to be epic! Soon, Cass and Drama Queen followed suit. And I helped myself to a piece too.
I thought that the girls wouldn't fancy eating cream crackers as they are pretty tasteless and dry but now, they have found a novel way of savouring this crispy and delightful snack😋👍