The influence of the social media site is incredibly powerful! A few friends of mine posted pictures of their overnight oats in their Facebook page last week. Within a week, almost everyone in our circle of friends started to make overnight oats! The overnight oats sensation spread like wild fire and now, I see postings of overnight oats each time I hop over to my Facebook newsfeed!
Since oats is supposedly a super-food, the kiasu-ism in me nudged me to try it too! And I did and what do I know? I am now looking at oats in a whole new perspective! With renewed love :)
I have concocted a few recipes of overnight oats over the last one week, using whatever ingredients that I could find in my fridge and whatever ingredients that I could easily get.
Today, I had overnight oats with coconut milk (santan). I was too exhausted last night and did not soak the oats. I only soaked the oats with fresh milk at 5:45 this morning. I tossed in some pine nuts, chia seeds, pecan, walnut, macadamia and almonds to be soaked with the milk and oats. Since I could get a packet of fresh coconut milk this morning, I soused the oats into some coconut milk just before I ate them and sprinkled a few dried cranberries and crunchy corn flakes to add some colors and texture to my bowl of goodness.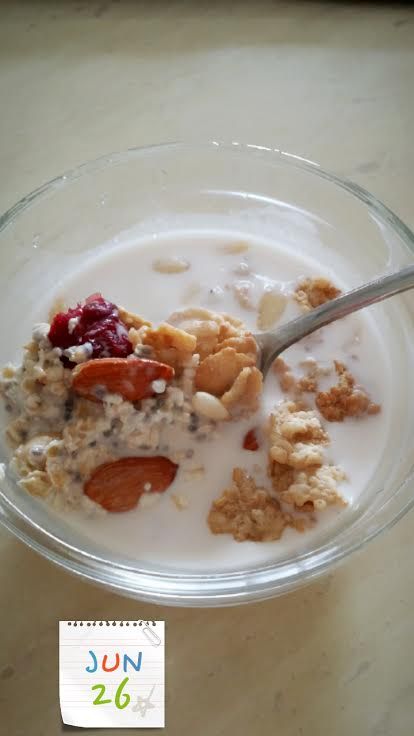 The verdict?
Very creamy, refreshing and very santan-ny which iLike! Did I tell you that I so love santan? On some days, I will drink half a packet of santan to get the oomph and kick that I need to get me through my tough and long days. And oh boy, that bowl of wholesome chilled oats was so filling and I think that it can last me through lunch! This is anytime healthier and more wholesome than nasi lemak or noodles. Anytime!