It has been more than 2 years since we last lunched at Sin Kheng Aun.
Upon arrival in Penang on Monday, hubs drove straight to Chulia Street. Thankfully hubs has an impeccable sense of direction. After our 3-week stay in Penang during Cass' surgeries in 2009, hubs has mastered the roads in Penang, mostly the roads to all the good food of Penang. That's my hubs - food will bring him to anywhere :D
Sin Kheng Aun is more than 60 years old and still standing strong and definitely not losing out to the newer and more modern air-conditioned competitors mushrooming in Penang.
What we had this time:
Gulai assam tumis with white pomfret fish. This is Sin Kheng Aun's signature dish and the crowd-puller, five-star dish. We can never get fed-up of having this assam fish dish and ordered 2 bowls this time!
Lobak and assam pan-fried prawns. Tofu with prawns and a veggie dish.
Kerabu chicken feet.
Caramelised fried chicken with dark soy sauce
Egg omelette with julienned turnip, crab meat and fried shallots
After this hearty lunch, we headed to Burma Road to get my all-time no. 1 favorite food in Penang - apom by Ah Guan! And mind you, in order to indulge in this fluffy and aromatic apom, PATIENCE is a MUST due to the sheer popularity of this apom! As usual, my darling hubs stood at the roadside and chit chatted with Ah Guan whilst I napped in the car for a little over an hour!
For almost five decades, Ah Guan has been patiently flipping this fluffy local pancake for his legion of fans from his humble roadside stall. He speaks English too and on the day that we were there, he was joking with a couple of German girls while flipping apoms!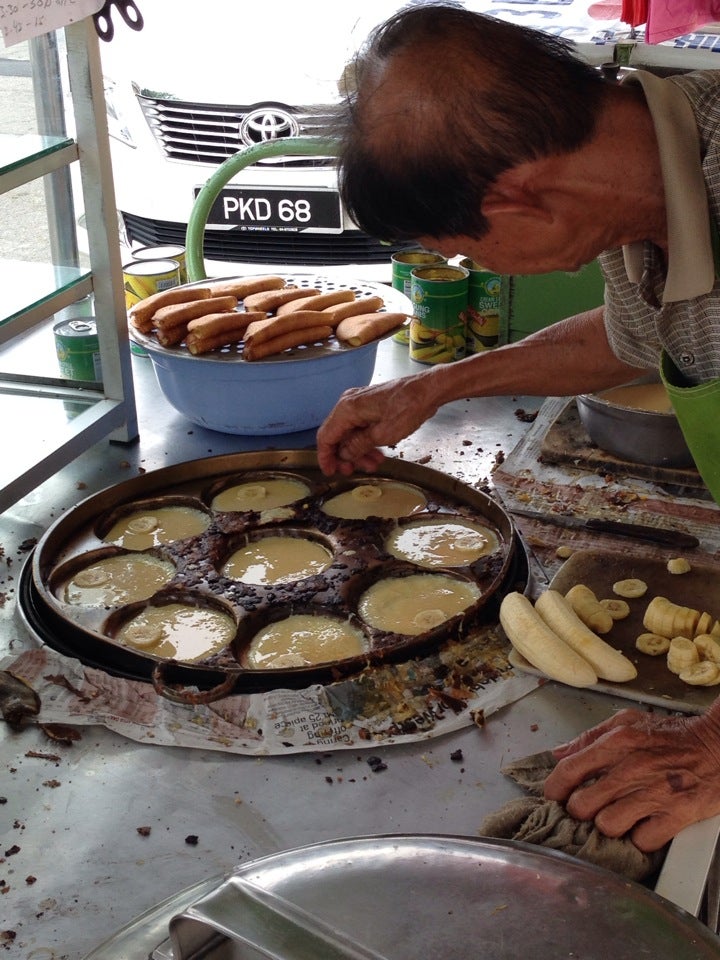 I think Ah Guan's Apom is the best in the world and second to none. Try it and you'll be hooked on it.
We walloped close to 20 pieces of the apom from the drive from Burma Road to our hotel in Tg Bungah.
Till we meet again Ah Guan, I can now only dream of your mouth-melting and fluffy aromatic apom!