School holiday pix taken in Ipoh during our stay from 6 - 8 June 2015...
At the Kg. Simee wet market in the early morning of Sunday, 7 June 2015.
The girls waited patiently for over 20 minutes for their favorite 'woon jai goa' (small bowl cake) at this seller's stall. These traditional Chinese cakes come in 4 flavors - pure pandan, pandan and santan, palm sugar and red bean. I think this grandma must be over 80 years old and you should see her line of loyal customers! With only 40 sen a piece and comes with fresh grated coconut, it's such a steal!! We bought 8 pieces and the girls chomped down almost all the cakes in the car, on our way to the Ipoh Stadium food court for breakfast.
Next, we segued into the Putu Mayam stall and bought 3 pieces...
We later adjourned to the Ipoh Stadium food court to indulge in my favorite Hakka noodles and beef brisket at Stall no. 39. They have a branch at the Simee wet market and that is the stall that I have been patronising for almost 40 years, every Sunday morning with my parents after our morning marketing! I never seem to get enough of their Hakka fish balls.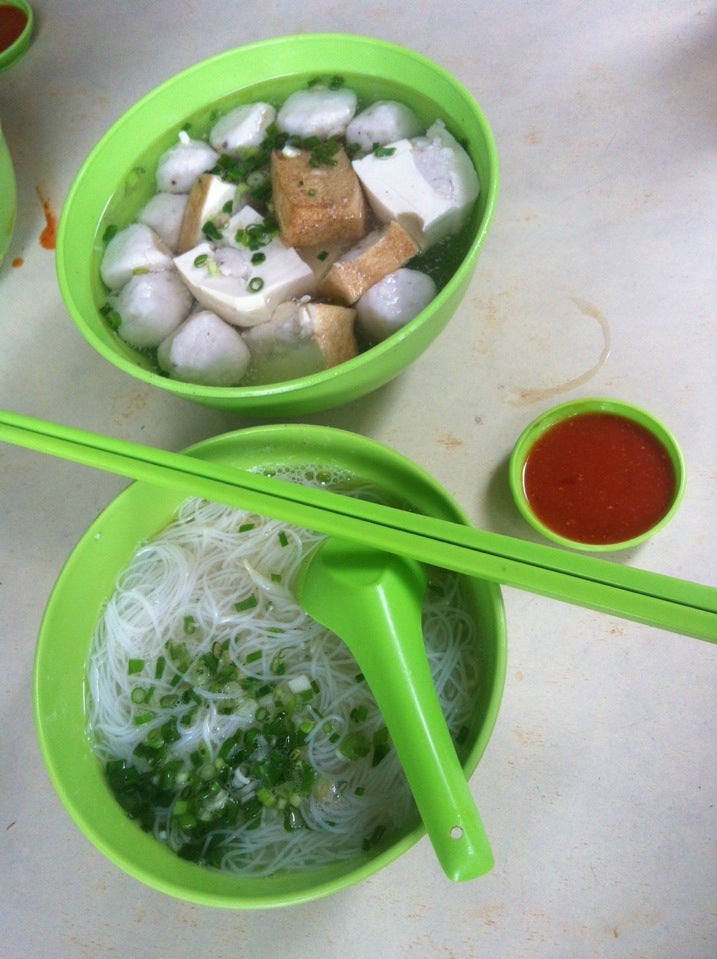 Just before our departure from Ipoh to KL on Monday morning, we had Hakka noodles and fishballs at another of our favorite haunt - a corner coffee shop at Ipoh Garden East.
Hubs' all-time favorite noodles in Ipoh - Hakka noodles with minced pork and garlic chilli sauce.
Noodles are never my kind of food but I wolfed down the Hakka fish balls, meat balls and yong tau fu with the tangy garlic chilli sauce, mmmm, so yummy!
After a brief 2-night 3-day holiday in Ipoh at my parents over the weekend, we took the 12-noon ETS (Electric Train Service) back to Ipoh on Monday with hubs. He took the night train from KL to Ipoh on Sunday, just to join us for breakfast in Ipoh on Monday and to accompany us back to KL.
Here we are at Burger King @ KL Sentral, having our late lunch at almost 3pm...
With just 5 more days of holiday before school starts again, we find that this holiday is really too short as we did not visit any new place this time. Alycia had to attend compulsory UPSR tuition in school during the first week of the school holiday. I can't wait for her UPSR exam to be over! And thank God that this is the last year that the UPSR exam will be held. Sherilyn and Cass are spared but I think something even tougher will be in the offing for them :(