On our 5th night in Hong Kong, after dinner at Pang's Kitchen, the hubs, his cousin from England, our brother in law from Hawaii and I took a bus to Causeway Bay in search of the best desserts in Hong Kong.
His cousin who is pretty familiar with Hong Kong, brought us to Cong Sao, the must-go to place for Hong Kong style desserts.
Cong Sao's desserts center on lots of mangoes, durians, jellies, puddings and 'tong sui' (sweetened soups). This tiny eatery can spawn really long queues that will really test your patience. Well, in Hong Kong, you need patience in order to taste good food. However, come at the right time and you'll find yourselves sharing a table with the locals, which was what we did. We shared a table with a local couple of husband and wife and chatted with them. The queue outside Cong Sao can be more insane on weekends.
The desserts do NOT come cheap (compared to KL prices)...
Here's what we ordered. You'll notice that almost every food picture taken in our trip in Hong Kong is photo-bombed by a spoon or hand. Everyone seems to be famished during each meal and I have to rely on my speedy gonzales hands skillfully to zoom, aim and snap the best picture (while trying my best not to shake my phone) ASAP before the food gets messed up impatiently in just seconds. It's stressful I tell ya!
My almond paste tong sui with black sesame paste.
This lychee and jelly ice shavings dessert is seriously refreshing and yummy!
We were already stuffed to our nostrils but just had to order this durian dessert in ice-shavings when we noticed that almost patron ordered this item. And the aroma of durian wafting in that tiny eatery, drowned us in the mesmerizing smell. We gave in and ordered this just before we left. We thought our tummies could no longer hold any liquid but we stretched our tummies to the max. Gawd, I felt so so so so full after all these desserts!!
Here are some other star items from Cong Sao. Pictures are taken from other sites.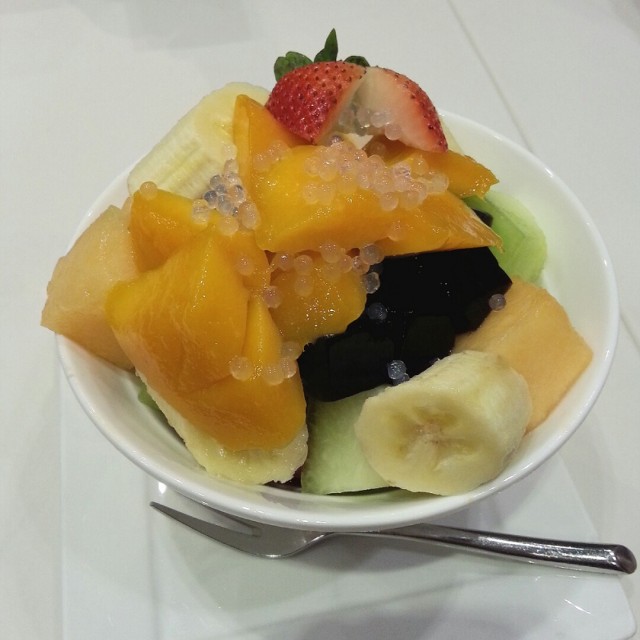 After our tummy torturing dinner and supper, we roamed the streets of Causeway Bay to speed up our metabolic rate to burn more fat! :D