With the cost of petrol rising steadily, it is no longer economical to drive a small cc engine car. I own a Hyundai
i
10 with small engine. When the hubs first bought me the car for my birthday exactly 3 years ago (how time flies!), it only cost RM50 to fill up the petrol tank full to the brim. These days, it cost almost RM80 to fill the tank up! And the quarterly servicing does not come cheap too!
With all these added costs and stress of being caught up regularly in the infamous KL snarled up traffic, I sometimes have fleeting thoughts of switching to a motorbike! No no, I am not talking about the regular kapcai motorbike. I am talking about those cool and low motorbikes for ladies, like a Vespa. I could have the motorbike modified and sprayed in my favorite color, PINK 💗
Would you mind riding on any one of these pink motorbikes for ladies?
I could have the motorbike fixed with cool accessories for a more practical use.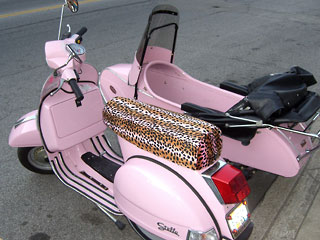 I would still use my car only when I need to Uber my children around. Most of the time, I would drive the motorbike around my neighborhood to get groceries and run errands. So much time and money can be saved with a motorbike. Getting a place to park with a motorbike is easy peasy too, not to mention cheaper fuel consumption.
Owning one of those cool accessorized motorbikes for ladies is a fashion icon too. Seriously, I really wouldn't mind owning a cool pink motorbike for ladies. It wouldn't cost a bomb too.
One great site for buy and sell motorcycles and their accessories is
iMotorbike.my
. It's a one-stop site for motorbike enthusiasts. Do check them out.