The last dish that I cooked before the mil's return from her 1-month stay in Hawaii was Tomyam noodles. It's a simplified version of my
Mee Siam
. My homecooked Mee Siam which everyone loves involves a lot of prep like blending dried shrimps and chopping lots of onions and garlic. As I was rushing off to cook dinner to chauffeur Alycia and Drama Queen to their tuition centres at different times that day, I could only whip up something that's very quick.
I came up with this noodles as I wanted to clear the fridge before the mil's homecoming. I still had a little Tomyam paste left, a quarter packet of organic spinach yee mee, a little vermicelli and frozen kafir lime leaves in the fridge. That's how this dish was created. I used vermicelli as it's the only noodles that I like and yee mee for the girls who love yee mee.
Tomyam meehoon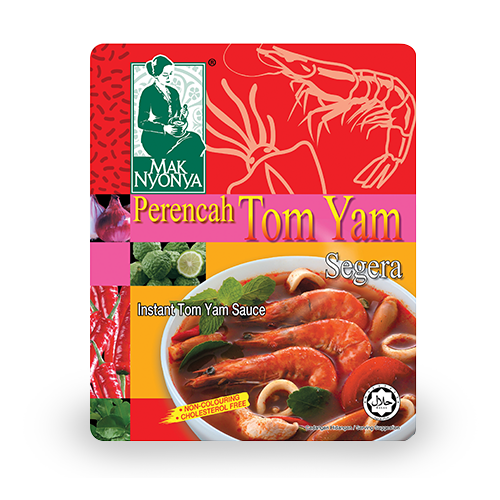 Ingredients:
Instant tomyam paste - I used about 4 tablespoons of Mak Nyonya tomyam paste. You can add more tomyam paste if you prefer it to be spicier. One packet of tomyam paste is enough for me to cook 3 different dishes as the girls cannot tolerate food that's too spicy.
Vermicelli (mee hoon) and yee mee (I used organic spinach yee mee)
Chopped garlic (about 1 bulb)
Chopped onions (about a handful of small rose onions)
Chicken breast meat, sliced and marinated with soy sauce, fish sauce (optional), pepper, a little corn flour for at least 1-2 hours
Vegetables - I used
yau mak.
Eggs
Salt and sugar to taste
Kafir lime juice
Handful of kafir lime leaves, cut into very thin strips
Method:
Pan fry the chicken breast meat.
Meanwhile, blanch the vermicelli and yee mee for about 1 minute in a pot of water. I use A1 vermicelli which softens very quickly and does not need soaking. Drain the noodles and leave aside.
Brown chopped garlic and onions.
Add in tomyam paste and saute until fragrant (about 5-10 minutes)
Add water and let simmer for about 5-10 minutes together with the green vegetables
Add salt and sugar to taste.
Add in kafir lime juice
Add in strips of kafir lime leaves
Add in the cooked noodles and mix them well with the sauce.
In another non-stick pan, prep the scrambled eggs. I cooked scrambled eggs as that's the fastest to cook. If you have enough time on hand, beat up the eggs and pan fry them. Then chop / cut the fried eggs into thin strips.
Plate up the noodles.
Scatter the fried eggs and raw kafir lime leaves strips on the noodles.
Bon appetit!
Tomyam yee mee
Super easy to cook, this one is sure to become a favourite you'll make over and over again!