I am not a fan of traditional mooncakes as I find them too cloy and sweet for my palate. Except for the assorted nuts mooncake and jelly mooncake, I have no interest in others. I won't mind at all if I don't get to eat them during mooncake festival. Some mooncakes are so nauseously sweet that I have to spit them out. I really mind having these empty calories in my stomach. That would require me to run extra rounds to melt away the fat.
What really turns me off about mooncakes in general is the price. The prices of mooncakes are steadily skyrocketing by the year, no thanks to costlier imported ingredients and GST. The other day, the foodie hubs bought a piece of traditional mooncake from Hilton Hotel which cost a freaking RM38++ each! And it's smaller than regular size mooncakes. The mooncake was so small that it was chomped down in just 2 mouthfuls.
The only mooncakes that I like are the ones from Ming Yue Confectionary in Ipoh. They are by far the cheapest ever mooncake, almost half of those with big brand names. While Ming Yue's mooncakes are cheap, the quality and freshness are definitely not compromised. The mooncakes are baked at the shop and sold there. Packaging is minimal and no-frills, no fancy plastic wraps, stickers and tins. However, the mooncakes must be consumed within a week for they are not vacuum packed. This is not an issue for us as Ming Yue's super-hyped mooncakes are so good that they are usually all wolfed down the moment they are cut.
My favorite from Ming Yue is their assorted nuts mooncake, which has a thin layer of crust, is not overly sweet and is chock full of nuts and seeds. Considering that nuts and seeds are expensive imported ingredients, Ming Yue's assorted nuts mooncake only costs RM9 each.
Below is the 2017 mooncake price list from Ming Yue Confectionary vs. one from a well-known big brand:
Ming Yue price list.
Big Brand price list.
RM3.50 each for a red bean paste mooncake from Ming Yue, seriously? And this is why my dad had to queue up for 45 minutes to get 2 boxes of mooncakes to bring to Singapore for my brother and his family recently. Thankfully for us in KL, a friend of the mil works at Ming Yue and getting the mooncakes has always been a breeze for her every year. Her friend would help her buy the mooncakes and then wait for another friend to transport them to KL for us. Right now, we have 3 boxes of mooncakes to savor 😀
No fancy schmancy bakery but a humble brick-and-mortar shoplot in Ipoh: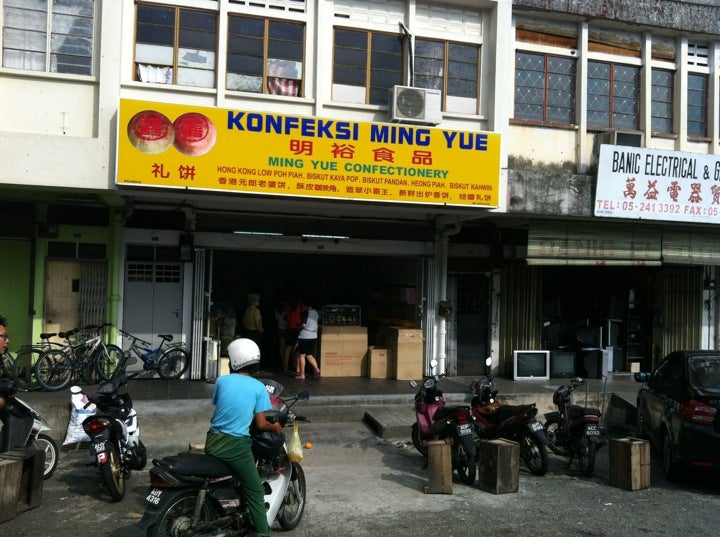 Check out the queue:
Besides baking mooncakes a month before Mooncake Festival, Ming Yue specializes in sesame peanut brittles, their other signature item, which also happens to be the best in the world 'fah sang tong' aka peanut brittles or some call it peanut candy. Other bakes include rice brittles (also very addictive) and an assortment of traditional Chinese biscuits and cakes.
After one bite of the crunchy, finger-sized delight you will be in utopia, then you'll end up walloping the entire packet, if not half. It takes a lot of determination to stop munching on these babies.
A scene from last night:
The hubs who is a yellow banana, like yours truly and could not read the Chinese prints on the Ming Yue mooncakes had to summon his princesses to help him read 😄 He is a big fan of mooncakes with quadruple egg yolk *face palm*
What's your favorite mooncake?