Today is a school declared holiday for Drama Queen and Cass in conjunction with Mid Autumn Festival. Most Chinese schools give a day off for Mid Autumn Festival and Qing Ming. However, today is a normal school day for Alycia, though she's in a Chinese private high school.
Breakkie was at our regular coffee shop, tucking into hawkers' delight. After breakkie, the mil and Drama Queen took an Uber car to Mid Valley Megamall while Cass and I stayed home. Cass' final exam is just days away but this dawdler is still in a chillaxing mood. In fact, she never panics before an exam and if not for me breathing down her spine to do more exercises and revision, I don't think she even knows that it's her exam until the eleventh hour when she reaches her class. She is always in her own la la land.
After completing two test exercises, I gave Cass to do something that she loves most - cooking, as a form of de-stressing. I taught her how to cook scrambled eggs. She was elated.
Cass cracked the eggs, added salt, pepper and milk, whipped the eggs while I heated up the pan and put the oil. She did the rest with me standing next to her and supervising her.
The result: perfectly textured, smooth and eggy-licious scrambled eggs with home-grown basil.
We do not normally celebrate Mid Autumn Festival. Tonight is no exception. We will be having dinner at home without the hubs joining us as he will be at a corporate client's Mid Autumn Festival event.
Hubs and I shopped for mooncakes, taro roots (mini yam), pomelos and water caltrop ('ling kok') yesterday for his client's Mid Autumn Festival function today. Big brand mooncakes were all selling at crazy markdown prices of between 25% and 50% off the regular prices. But I am not a mooncake lover, nor the girls, thus didn't get any for own consumption. Moreover we still have a few uneaten mooncakes from Ming Yue Confectionary, Ipoh.
Nonetheless, we bought 2 Teochew fried mooncakes from Wonderful Cake House.
The taro paste Teochew mooncakes from Wonderful Cake House are wonderfully delish. After tasting the sample (which was still very hot) and got hooked on it, we took two mooncakes - one with yolk (RM17.50) and one without yolk (RM16.50).
The taro paste is not overly sweet and cloy and the flaky pastry is crispy and fresh, with no rancid oil taste. These mooncakes are fried daily. When we tasted it right off the baking tray, we were sent right away to mooncake paradise, they were to die off 😋
Do you know why water caltrops or 'ling kok' are eaten during Mid Autumn Festival?
In Malaysia, water caltrops are only available during the season of Mid Autumn Festival.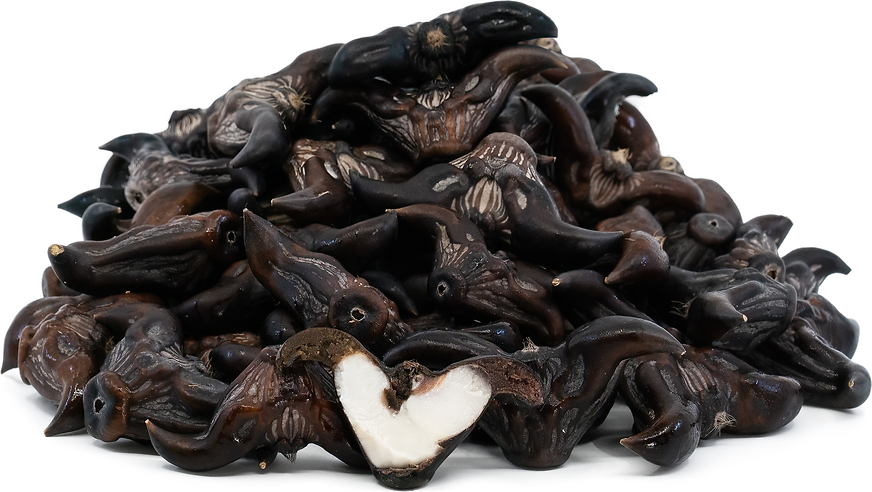 Water caltrops are one of the elements that usher in good luck and prosperity during the Mid Autumn Festival. The name sounds strange and it looks creepy too but the symbolism behind this element is something intriguing. Water caltrop is also known as the buffalo nut or the bat nut. A first look at the water caltrop gives you an impression that it looks like a bat or buffalo or more so like a ninja warrior's weapon. But these nuts are just like water chestnuts born out of an aquatic plant similar to that of a water lily that has been cultivated and eaten in different countries for centuries.
The fact that water caltrops look like bats is considered lucky for the Chinese because the Chinese word bat has a 'fu' sound in it which is the word for luck, hence water caltrops are known to bring in loads of good luck when eaten during the Mid Autumn festival. Water caltrops are boiled until they turn soft and once they are cooked, the shells are broken with a nut cracker or hammer. The white flesh is eaten which tastes sweet and nutty (like a combination of roasted chestnut and cooked potato). It has a mild taste with a crumbly texture. For me, I don't like the taste of it. I think it smells awful (like mud). Seriously. And no offense to those who adore water caltrops, yeah. 😉