It's been a while since we last braved the hot afternoon weather to sweat it out at this stuffy and smoky coffee shop to enjoy all our favorite street food. I'm talking about the ever popular, perpetually full-to-the-brim O&S Restaurant @ Paramount Garden, PJ. This coffee shop houses one of the best yong tau fu, prawn noodles, curry noodles, assam laksa and char koay teow in the Klang Valley.
With 3 kids tagging along, no way would I have brought them here. That's why we have not eaten at this coffee shop for yonks. Since it was just hubs and me after our physiotherapy session on a Friday, easy peasy la. We didn't mind sharing a table with strangers. Another major turn-off is the lack of parking space.
For over 10 years, my favorite yang tau fu is still from O&S...
I love the har koa (prawn paste) chee cheong fun to bits. It's the best in the world! The prawn paste sauce is so gooey and luscious - so yummy, so sinful and I am so in trouble now for wolfing down a plate of CCF swimming in prawn paste! That's why die die I have to swim 20 laps in the pool every morning from 6:30 - 7am to melt away the calories!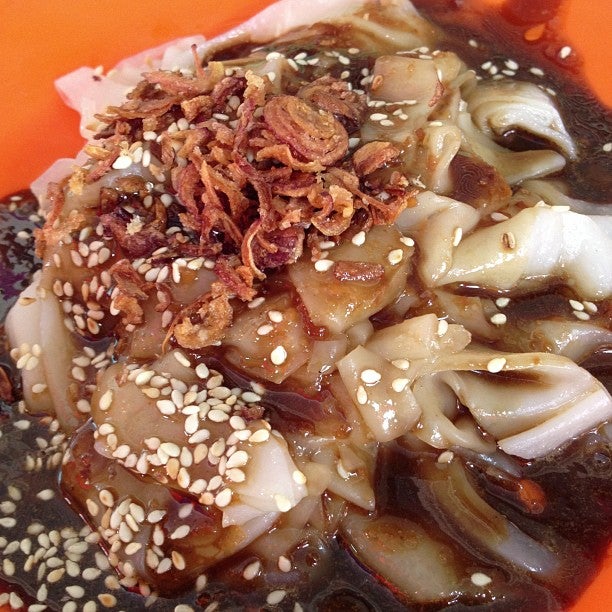 Hubs bowl of curry noodles with extra cockles and char siew, siew yoke and roast chicken (plate of meat was ordered from the chicken rice stall) is surely sending his cholesterol level up a few notches! He also ordered a plate of char koay teow.
After this heavy brunch which corroded the both of us with much guilt, we had a very light dinner that night, consisting mainly of fruits and nuts :D